MoS Pop-up
MoS pop-up, Museum of Sustainability took place for the first time during Fashion Revolution Week 2019 in the city of Miami. The weeklong event featured an Art Exhibit curated by Las Project featuring the work of 9 artists who explore different issues related to fashion like: gender equality, environmental awareness, the industry's reliance on plastic, waste and traditional technical skills.
This first edition counted with 8 fashion designers and more than 30 local sustainable brands that collaborated to create an immersive experience which helped visitors understand the fashion industries most pressing issues and their role in being part of the solution.
Check out some of the art exhibited
Hats donated by Dorcam for the artist Lisu Vega, doing a tribute to Nela Arias Misson.
Miami - 2019.
The use of hats as a decontextualized second skin or layers that overlap to provoke an organic composition. Likewise the projection of the hats shadow creates a sculptural piece rich in a multiplying graphic states, an immersive installation of hats created from the Sustainability in art.

Background for images, 2019
This site specific installation of a background has been made with recycled samples of interior design fabrics.
The visitors are encouraged to use the background, sit, sleep, lay on it and use it for paintings, sketches, videos and self portraits.
Visitors must remove their shoes before stepping on the background.
Cocoon, 2017-18,
Acrylic fiber, knitted
Variable dimensions

Amalia Caputo (Caracas,1964) is a photo and video-based artist, independent curator and art writer whose work focuses on memory, the archive, feminine identity and photography itself. She holds a BA in Art History from the Universidad Central de Venezuela and an MFA in Studio Art and Photography from New York University and the International Center of Photography.

EX Series, 2019
Iron on vinyl on cotton and other mixed materials,
Variable dimensions
Laura Marsh is a fiber artist with a socially engaged practice. Her banners, weavings, and installations contain feminist and political quotes, mottos, and emblems that reflect cultural values and belief structures. From two generations of women who sew, Marsh practices an accessible and hands-on tactile approach. She invites viewers to enter, touch, and be immersed in the work.
Plastics Stools, 2019
Ordinary Things is a series that acknowledge the place and context of standardized utilitarian objects of our surroundings.
A plastic cup, a spoon or a straw with its paper package carry a weight that portrays a complex narrative that goes beyond the material object itself. When looking at single use items for instance, it raises questions about what it is made for? Where and by whom was made? Is it sustainable? What is its social impact? Is there a message within?
I use abstraction as a formal tool through painting to oscillate between the recognizable, the familiar and the representational. The objective is to capture visual information that tells us more than the retinal records, and questions the DNA composition within these ever-changing and mutating elements of consumption. A mirror of our own ordinary things.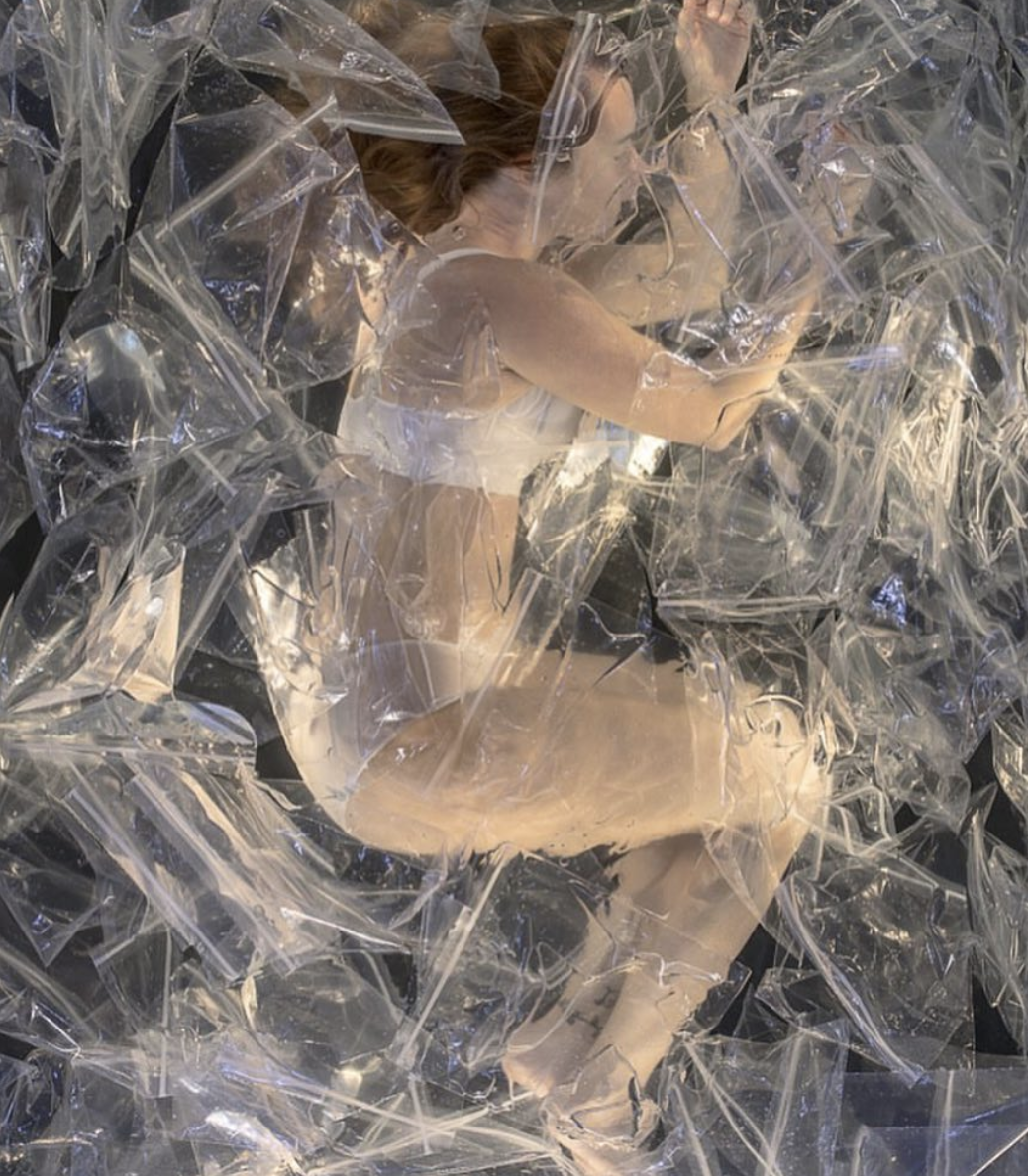 Disposable Ethic by Christin Paige Minnotte articulates the intersection of the beauty of humanity's creative intelligence and the tragedy of the unethical use of that intelligence with respect to disposable plastics and ocean pollution. Intended to illuminate an irony of industrial progress, specifically with respect to plastics in the ocean - Disposable Ethic articulates the idea that the very triumph and resilience of mankind, the ability to transcend natural limits (i.e. the creation of a new polymer to nature) and even improve upon nature, could seal its doom.

Nina Surel was born and raised in Buenos Aires, Argentina and has lived and worked in Miami since 2001. She studied Fashion and Textile Design at the Architecture & Urban Planning University oF Buenos Aires, and Costume and Set Design at The Art Institute Teatro Colon in Buenos Aires,Argentina. Her work has been exhibited widely in institutions, and galleries in the United States,Europe and South America, including the Naples Museum of Art (Naples, Florida), the Museum of Latin American Art (Long Beach, California), San MatThe Art & Cultural Center of Hollywood (Hollywood, Florida), the Boca Raton Museum of Art (Boca Raton, Florida) and the MOCA (North Miami, Florida). She has participated in Art Fairs in Buenos Aires, Chicago, New York, Miami, and London. Her artwork has been featured in national and international magazines.
Aurora Molina was born in La Havana, Cuba, in 1984. She emigrated to the United States at the age of sixteen, where she opted to pursue an education in art. Molina received her Associates of Arts in Visual Arts from Miami Dade College, a Bachelors in Fine Arts specializing in Mixed Media from Florida International University and Master Degree in Contemporary Art at the Universidad Europea de Madrid completed in 2009. She currently resides in Miami, Florida, where she works as a full time artist.
Tamara Despujols, a multimedia artist and architect, women's rights and social activist, aims to merge both life and art in a most peculiar way, by viewing the interconnection between our bodies and the places we inhabit through the complex thread of thought that conceptually strings together all her works. Fearlessly, she transforms her ideas and critiques of contemporary life into thought-provoking visual and architectural objects that represent her take on art and life, recalling Allan Kaprow's concept of "art as an experience"
FASHION EVOLVED
The Fashion Evolved an exhibit curated by The UpCycle Project as part of their ongoing commitment to sustainability and innovation in fashion unites internationally recognized designers to display one-of-a-kind UpCycled from unconventional materials.
Through their work fashion designers can become a part of the global initiative to raise awareness on the environmental impact of plastics currently have on our planet, through fashion.
As part of the MoS Pop Up, the exhibit is presenting works by Oscar Carvallo, Viviana Gabeiras, The House of Fluff, Shantall Lacayo and Agatha Ruiz De La Prada acting as advocates of sustainable fashion to create a consciousness of the environmental impact the fashion industry creates, both in consumers and designers without having to compromise style.
We leave you with more awesome pics of our grand opening
List of participating artists: